Fastest, Easiest, and Most-Complete AV Drawing Software
The plan shows locations of all key AV devices on the property

The plan can also show prewires and conduits

Symbols can show distances, coverage areas and angles for access points, security cameras and motion sensors

The symbol legend is created and updated automatically

Create custom floor plan symbols in seconds

Use the plan as a sales tool during the proposal phase

Use the plan for design confirmation

A one-page design tool for quickly creating full-project designs before or after product selection

Easily link block diagram device symbols to selected products

Generate bill of materials and wire schedules instantly

Easily transform block symbols into engineering schematic and rack symbols

Printout headend and room images for on-site design and wiring verification before sheetrock

Fully detailed and easy-to-read engineering wiring diagrams

Schematic symbols can be auto-created from the block diagram

Device symbols can represent stand-alone equipment or plug-in (I/O) cards

Easy device symbol I/O port editing and copying

Wire symbols can represent input, output, input/output or interconnect wires

Color-coded wire reference symbols prevent confusing drawing line clutter

Customizable wire termination symbols show detailed connector wiring

Generate AC power and ventilation requirements instantly

Precision scaled rack designs

Device symbols can be auto-created from the block or schematic diagram

Universal rack symbol has built-in rack ruler

Rack and device mounting symbols have built-in depth bars

Front and back rack views

Custom, integrated, or standalone device mounting options

Rack accessories symbol

Generate rack reports instantly

Wire schedules by room, wire type and wire ID

Bill of materials by manufacturer and room

AC power and ventilation requirements report

Rack systems bill of materials

Customize any report
One-time Payment...Life-time Use!
All New Engineering Complete AV (ECAV 4)
Fastest
, because with ECAV you don't need to be a Visio expert - we've made it simple and intuitive. ECAV is not a sluggish overgrown program, but an application suite utilizing Visio's familiar user-friendly features for creating great drawings fast. And, with all the right drawings and technical documents in-hand, your projects will begin and finish smoothly and efficiently.
Easiest
, because with ECAV's powerful automated features and time-tested process of creating professional structured AV drawings, any integrator can get swiftly up to speed. Creating AV drawings was never this much fun!
Most-Complete
, because ECAV supports all residential and commercial installations including
Infrastructure, Audio, Video, Control, Network, Communications, HVAC, Power, Surveillance, Hardware, Lighting, Access Control, Furnishings, Vacuum, Shades, Fire
and
Security/Alarm
. It not only provides all the easy-to-read plans needed to sell, rough-in, build, program and service your systems, but provides all the critical reports including BOMs, wire schedules, electrical and ventilation requirements needed to ensure safe and long-lasting systems.
Decades of Experience at Your Fingertips
ECAV is an AV drawing suite using Microsoft Visio Professional, developed, and perfected by industry veterans who know a thing or two about AV technology, installations, and drawings. Only by combining this unique blend of time-tested real-world AV design and installation experience with the best Visio developers could ECAV be what it is today. ECAV's drawing symbols, grids, alignment guides, and page layouts have been critically designed for producing effective and easy-to-read drawings. Carefully designed shape data windows, forms and right click menus provide important choices for drawing fast and setting optimal functionality. ECAV's process allows for any past, present, or future commercial or residential system to be fully illustrated regardless of the technologies and products used.
Drawings that Increase Profits
With its combination of
automated features
and capabilities, ECAV is designed so you can work faster while improving workflow, communications, and your bottom line at an
affordable price
.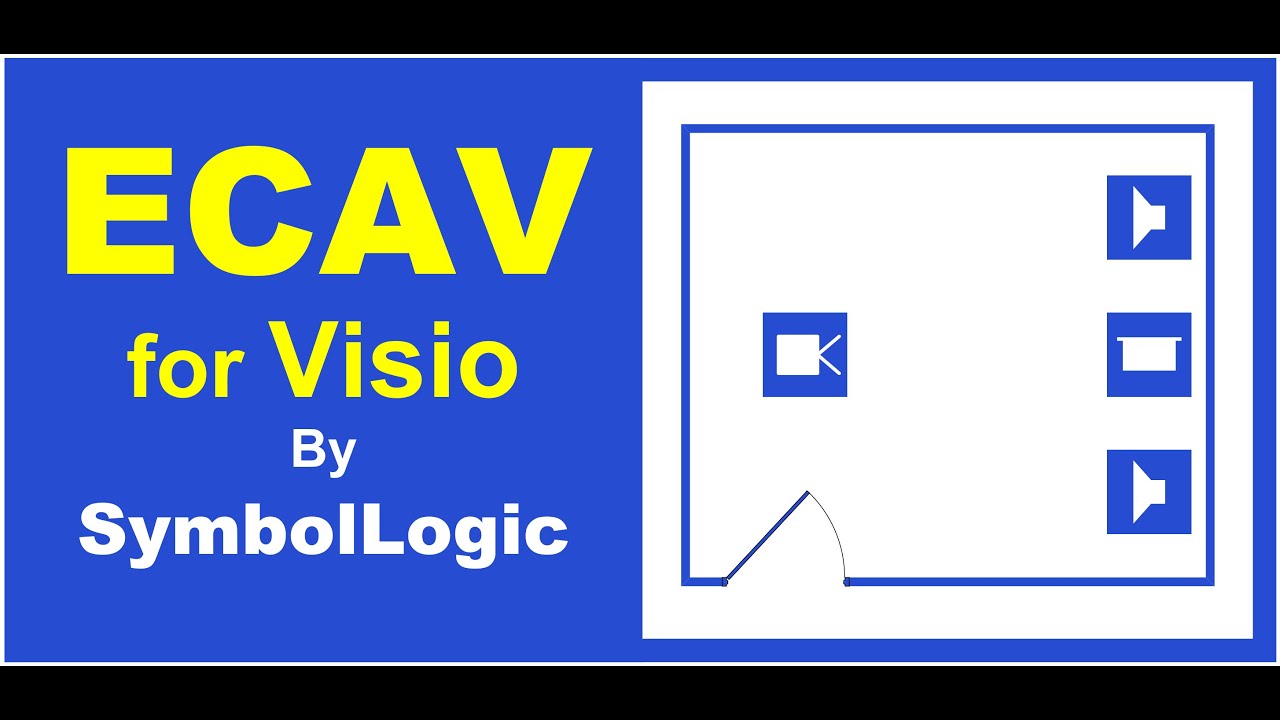 A quick look at the ECAV workflow process from designing, wiring, engineering and building your AV projects
Meet us in Dallas and see ECAV in action. Click the image below for your FREE Expo pass!
Wednesday, September 28 | 9:00 am to 1:00 pm Room No: D 16
Tackle installation nightmares by using well thought-out Visio documentation in this hands-off, fast-paced workshop. No wasting time entering data, correcting mistakes, or waiting to catch-up in class. Simply watch the presenter, ask questions, and follow along in your provided how-to workbook. Take it home and practice at your own speed and convenience.
Whatever software solution you use, you'll leave this design documentation class knowing what's important, why it's important, and how to do it.
Register